2023 Sponsorship Opportunities
These opportunities will sell out. Act fast!

Options for securing your sponsorship: you can use the regular
registration path or download and submit a pdf.
UPDATE: Only FOUR sponsorship opportunities remain! We have one Presenting, two Champion, and one Advocate slots available. Everything else is sold out!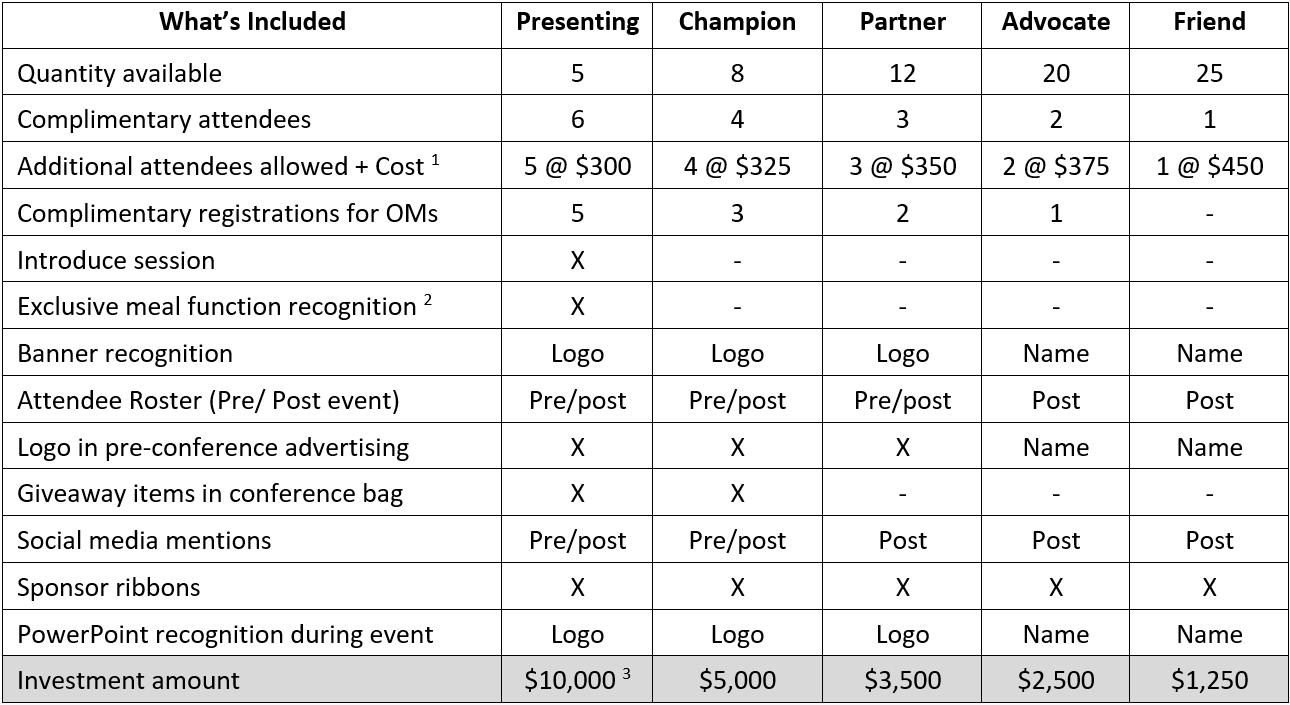 1 A sponsoring company can only send a set number of attendees at a reduced cost. Reduced cost attendees include complimentary attendees plus the discounted rate registrations. For example, Presenting Sponsors can send up to 11 people (6 complimentary and 5 at $300 each) at a discount; Friend of GAA sponsors can send up to 2 people at a discount (1 complimentary and 1 at $450.) Additional attendees are at the Non-Sponsoring Associate rate.
2 Presenting Sponsors can choose to be the exclusive sponsor of one meal function (first-paid, first choice): Wednesday or Thursday break, Thursday or Friday breakfast, Thursday Board lunch.
3 Presenting Sponsorships include recognition at Wednesday and Thursday night receptions.
Additional Sponsorship Opportunities
* Note: WiFi, Keynote, and Reception sponsorships do not include attendee registrations. They only receive the benefits listed. Separate sponsorship or conference registration is required to purchase these items.
WiFi Sponsor (1 available @ $5,000)
One sponsor company will have the right to choose a name and password for conference Wi-Fi access. Subject to approval by GAA.
Keynote Sponsor (2 available @ $5,000 each)
Two companies can sponsor conference keynote sessions. This does not include the ability to choose the speakers but does offer the ability to introduce a session.
Name Badge/ Lanyard Sponsor (SOLD)
One company can have their name or logo added to the conference lanyards and each attendee name badge.